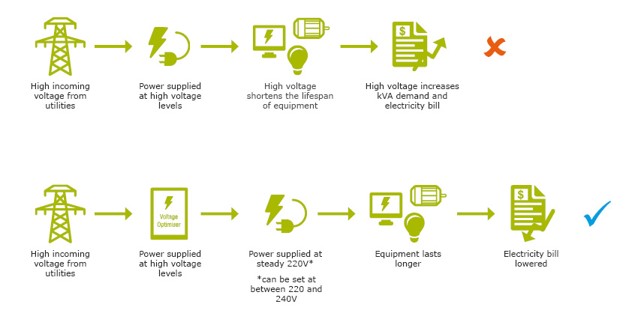 At ESS we can provide energy efficiency solutions such as voltage/ power optimisation, energy audits, power factor correction and energy monitoring.
Power optimisation is an energy saving technology that is used to regulate, clean and condition the incoming power supply. Concequently, to reduce the voltage supplied to the optimum level for the on-site electrical equipment and appliances. By installing this device, you can reduce your electricity bills and extend the life of your equipment.
Make an appointment today with our specialist.
Icopower ESCO is an independent Energy Saving Company in Kenya which develops, implements and arranges its own financing for projects designed to improve the energy efficiency for facilities over a 3-5 years time period. Icopower ESCO is the leading ESCO in East Africa and Indian Ocean, and it provides comprehensive energy efficiency solutions and services for on-grid corporate, institutional or private business owners. Icopower ESCO is affiliated with Icopower Italy, a company focused on developing and commercializing energy efficiency technologies, including voltage optimization.
Icopower ESCO's remuneration is based on Energy Saving Performance Contracts whereby our payment is directly linked to the amount of energy saved by the project. We work with clients to reduce operating expenses, upgrade and maintain infrastructure, stabilize energy costs, improve infrastructure efficiency, increase energy reliability and conserve the environment by reducing the carbon footprint.
Icopower ESCO comprises of professionals who are highly talented in the technical, financial and legal aspects of selling, structuring, financing and implementing energy savings projects. Icopower ESCO combines the professional expertise and knowledge of several entrepreneurs with a background in energy efficiency, electrical engineering and investment banking.